New Zealand Radio Preservation Society (Ferrymead) Incorporated – History
On 26 April 1984 a group of radio enthusiasts incorporated the "New Zealand Radio Preservation Society (Ferrymead)" at the Ferrymead Heritage Park in the suburb of Heathcote, Christchurch. The Heritage Park Director invited the group to place on display radio and sound equipment that had been in long term storage in the Park. Two rooms within one of the several staff houses were utilised for the project and initial work began with about a dozen volunteers.
Four years later a large building in the far north east of the Park, known as the Cranmer Hall, became available to the Society. Although about a kilometer from the village centre, it was close to the original entrance and administration area and visitors could then take either a tram or train ride to the village from this point.
This building was developed into three sections. The main hall already contained the remarkable "Dini Phonograph Collection" of late 19th and early 20th century sound equipment now came under the custodianship of the group. A room at the end of this hall was set up as a vintage radio museum with a good range of 1925 to 1955 radio sets. The opposite end of the building was turned into a general storage area.
During 1990 the amateur radio station ZL3RPS was set up. On 1 October of that year a licence for public broadcasting was granted by the New Zealand Radio Frequency Services to the Society to broadcast on the 1413 kHz frequency as Radio 3XP. Generous donations of records and equipment assisted the fledgling station. The transmitter came via a loan from a local company, TV Repair Services, and a 30 metre pipe aerial was soon radiating a 100 watt signal every Sunday.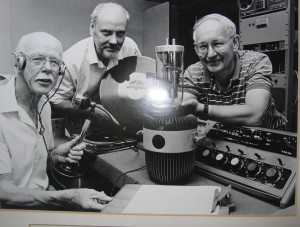 Above: The Beginning, February 3rd 1991.
Left: Ken Brice,  Programme Director Centre
George Weallens: Secretary, Right: Ewan Parry, Station Manager
When radio donations to the Radio Preservation Society began to arrive at the Ferrymead Heritage Park they often included various record collections. It was then determined that these 33⅓, 45 and 78 rpm recordings, along with cartridge, cassette and reel to reel tapes could be used to create a working example of an early radio station. The boxed record collections were shelved into a record library and were catalogued on a donated computer.
A replacement NZBS 100 watt transmitter, complete with mast, which was surplus to the hydro-electric camp at Twizel, was transferred to Ferrymead Park by RPS members in 1994 and put into operation. A further unit, obtained from Makara four years later, was modified and went on air utilising 300 watts of a possible one kilowatt output. Signal coverage became favourable over most of Canterbury, with occasional reports of reception coming in from Blenheim, the West Coast, and Dunedin. Broadcasting was then extended to cover the whole weekend.
In 2002, the Christchurch City Council, which had control of the Park, requested the removal of the Society's aerial to a new site west of the village because a tidal wetlands area was to be created over the area on which the aerial was located. A new 33.5 metre lattice mast was installed by BCL and a transmitter hut placed close at hand with a UHF link back to the broadcasting station and a new AMBT101-2 solid state transmitter from Blyth Radio Systems was installed with its output reduced to 300 watts. Replacement turntables and CD players were installed. Technical staff was given a boost with the arrival of three qualified technicians.
The record library was later expanded to accommodate the growing number of donated record collections, including a number of CDs. New turntables, CD players and cassette decks were installed in the studio. On 13 September 2009, the station's transmitting power was increased to One Kilowatt.
Radio Ferrymead was established as a working exhibit of a broadcast station based on an era when the AM band was the only form of radio available. It is the only station in Christchurch that plays vinyl and 78 rpm recordings. It is estimated that Radio Ferrymead broadcasts to a listening audience of around 16,000 across Canterbury.